Description movie:
A high-school girl acquires the ability to time travel. A girl travels back in time in order to save her dying mother in this Japanese sci-fi adventure directed by Masaaki Taniguchi. With her scientist mother Kazuko (Narumi Yasuda) in a coma after being knocked down in a car accident, high school student Akira Yoshiyama (Riisa Naka) decides to use her mother's research into time travel to journey back to the 1970s. Once there, Akira searches to find her mother's first true love and bring him back to the present, where she hopes his presence will bring Kazuko out of her coma. Unfortunately for Akira, she soon discovers that her presence in the past has unforeseen consequences for her future.
---
Information about the movie:
Original Title: Toki o kakeru shôjo
Country, Channel: Japan
Release Date: 2010
Genres: Adventure, Sci-Fi,
Creator: Masaaki Taniguchi
Cast: Riisa Naka, Akiyoshi Nakao, Munetaka Aoki
Runtime: 122min
Language: Japanese, Sub: English,
Tags:

2010, Japan, Japanese, Sub: English, Adventure, Sci-Fi, Masaaki Taniguchi, Riisa Naka, Akiyoshi Nakao, Munetaka Aoki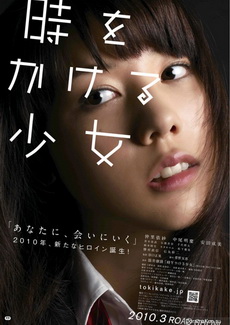 Movie storyboard
Data movie
BDR MKV 720p Gb 60f

---
Movie Trailer:
---
Similar movies:
Comments and Reviews on movie:
Информация
Посетители, находящиеся в группе Guests, не могут оставлять комментарии к данной публикации.